Cooking Lessons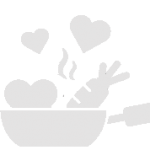 Need some help in the kitchen? I've got you covered. Allow me to demonstrate a live-streamed cooking lesson for you in the comfort of your own home.
I offer quick, healthy and delicious meal options for you to choose from– or we can customize a menu. By showing you nutritious swaps, it's possible to replace empty calories with nutrient-rich ones in your favorite dishes without the downside of harmful ingredients or cooking methods.
I can also show you how to make prepping all your meals for the week simple for those nights you get home from work too tired to cook. This is extremely important for those who wish to live healthy lifestyles and avoid raiding the pantry when you get home.
Substitutions are provided for anyone with dietary restrictions, food intolerance or allergies.
I also provide you with a grocery list of staple pantry must-haves & more!
Interested in learning more? Fill out this form below and I will be in touch.
xoxo,
Brooke