BxB Sweat @ Home Beginner Program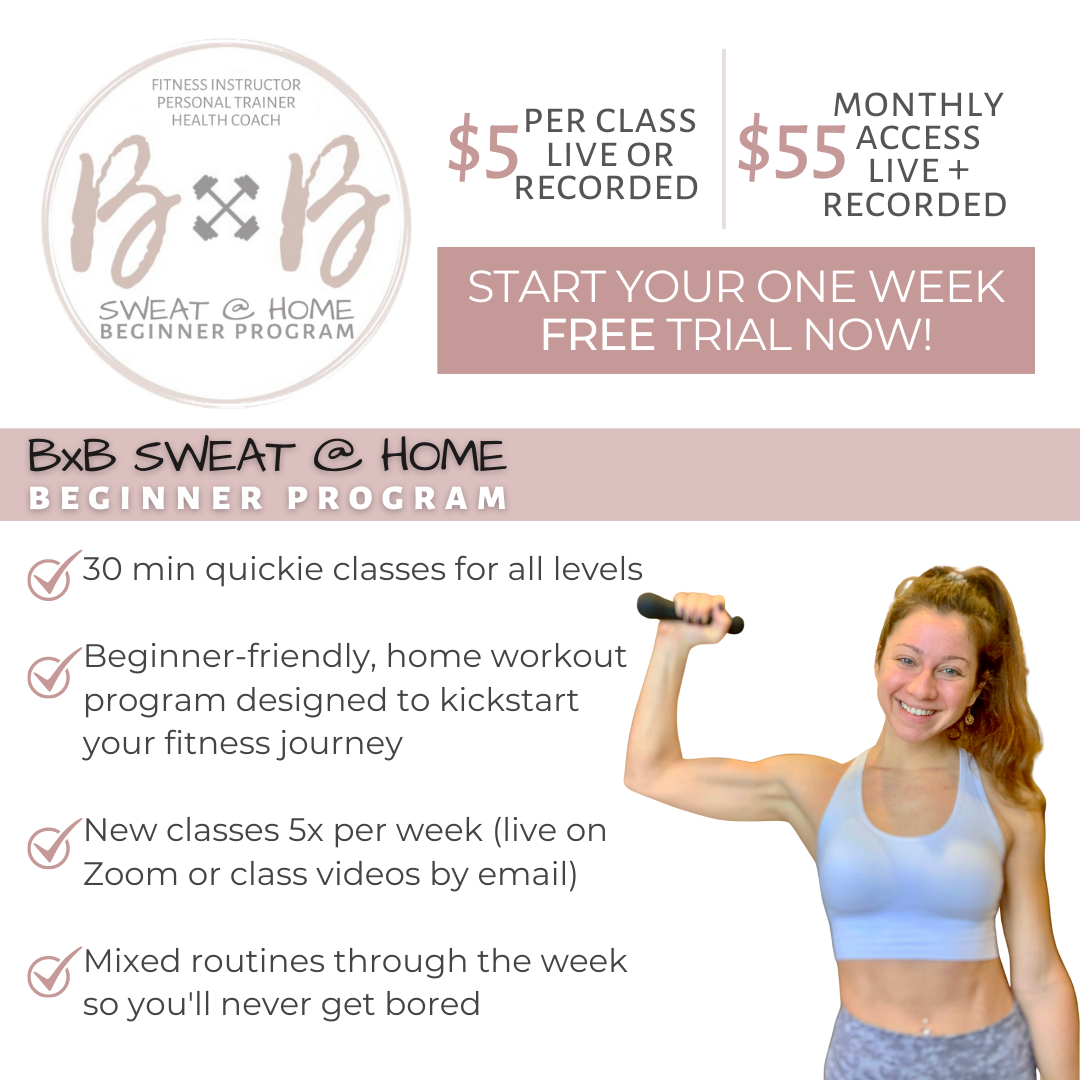 Class schedule + descriptions
MONDAY 9:00 – 9:30 AM EST
Class: Quick HIIT
Description: Intervals of weight training and cardio keeps your heart rate up to build your endurance and strength.
TUESDAY 9:00 – 9:30 AM EST
Class: Abs + Core
Description: Focused on strengthening your core and all areas of your midsection to hit upper + lower abs and obliques. No equipment.
WEDNESDAY 9:00 – 9:30 AM EST
Class: Booty Burn with Cardio
Description: Low impact mat work targets your butt, inner + outer thighs, legs and hips using only your bodyweight. Cardio included for a quick and fun sweat.
THURSDAY
Rest Day
FRIDAY 9:00 – 9:30 AM EST
Class: Arms + Cardio
Description: Create long, lean arms with a set of dumbbells. Cardio will keep your heart rate in the mix for a quick and effective sweat.
SUNDAY (pre-recorded)
Class: Deep Stretch
Description: This relaxing class relieves your muscles and relaxes your body to ease into a new week ahead and restore your body from a week of classes.
⋅ the Beginner Program classes are 30 minutes
How can I attend live or pre-recorded?
⋅ sign up in advance to receive the live Zoom link to join class (link with meeting ID and passcode provided)
⋅ can't make live class? all classes are recorded and are emailed within an hour after class ends
⋅ single class sign-ups have the option to attend live on Zoom or recorded classes sent through email
⋅ class videos are accessible until 11:59PM EST the following day. for example, Monday's class can be viewed until midnight Tuesday
⋅ monthly access to the program includes the option to attend live and get the class videos emailed without expiring
⋅ light to medium dumbbells (1-5 lb. weights) or get creative and use items in the house (ie: soup cans)
⋅ a mat or towel