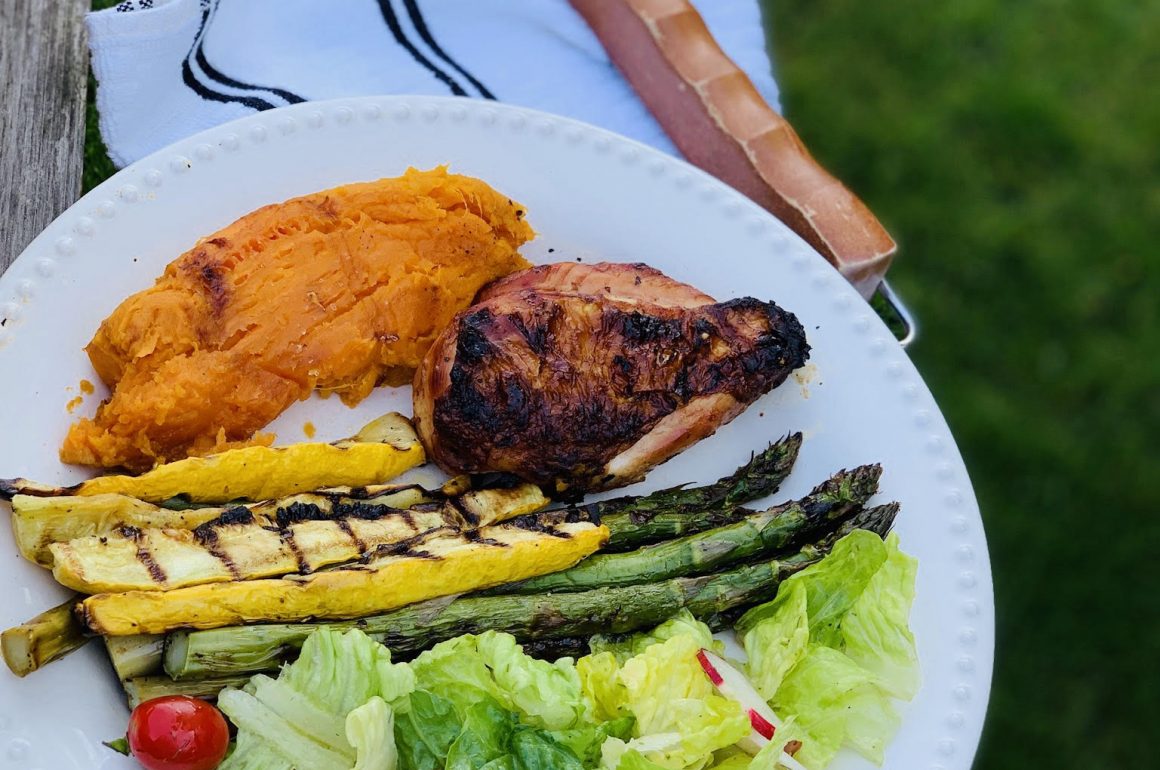 So summer has officially kicked off. While we close out the month of May, I look back with several intentions I had for the month and did a check-in. Maybe not by the book… such as stretching daily (more like at least 1-3 a week), but I did make time for myself and I am proud of my accomplishments.
I drafted and made a wonderful program for my girls, BxB Beach Body Babes. This is a six-week guide which comes with a full meal program, workouts, manifesting workshops, stretch and restore gatherings, group grocery store tours, live cooking video and q&a videos, a Facebook support group + more! (The group registration has a few spots remaining! If you'd like to do this program online or even pay weekly, don't hesitate to reach out!)
So being that summer season is officially here, let's talk about girls who can grill, such as this girl right here! I never thought I'd enjoy flipping chicken veggies and chicken on my grill, but I do enjoy it! I mean, I love to cook + I enjoy being outdoors… I'm also a bit introverted so I rather be off to the side with 1-2 people vs. immersed in a crowd of people. So with that, comes the responsibility of the grill. And since I don't have any men of the household, here I am!
Check out these awesome tips to keep your barbecue free from sugary sauces and big on real flavor!
Healthy grilling tips:
grill pineapple alone or with a brushing of honey
make a healthy pizza and cook on the grill with goat cheese and figs
add fresh veggies to grill and brush them prior with some good-quality oil, fresh cracked pepper and pink salt
invest in good quality metal skewers to make kebabs. You can use any meat or fish you like and fill with veggies and fresh fruit or melon
to keep things consistent for all your entertaining guests: separate kebabs by protein only, veggies only and fruits only. Some fruits (is: pineapple) may not require as much cooking time that chicken may need – which will lead to some items coming out over cooked vs undercooked. It's also easier for attendants to pick and choose based on their liking and dietary restrictions
poke and wrap potatoes in two layers of heavy-duty tin foil. This will cook potatoes and nearly caramelize them. For a nice touch, rub the skins with sea salt before wrapping
buy high-quality dressings and marinades, otherwise make them yourself
some wonderful options for vegans include charred portobello mushroom caps or a grilled head of cauliflower
don't forget dessert. Grilled peaches make a stunning addition to some coconut whipped cream
What are some of your favorite grilling ideas? Let me know in the comments below or on my Instagram!