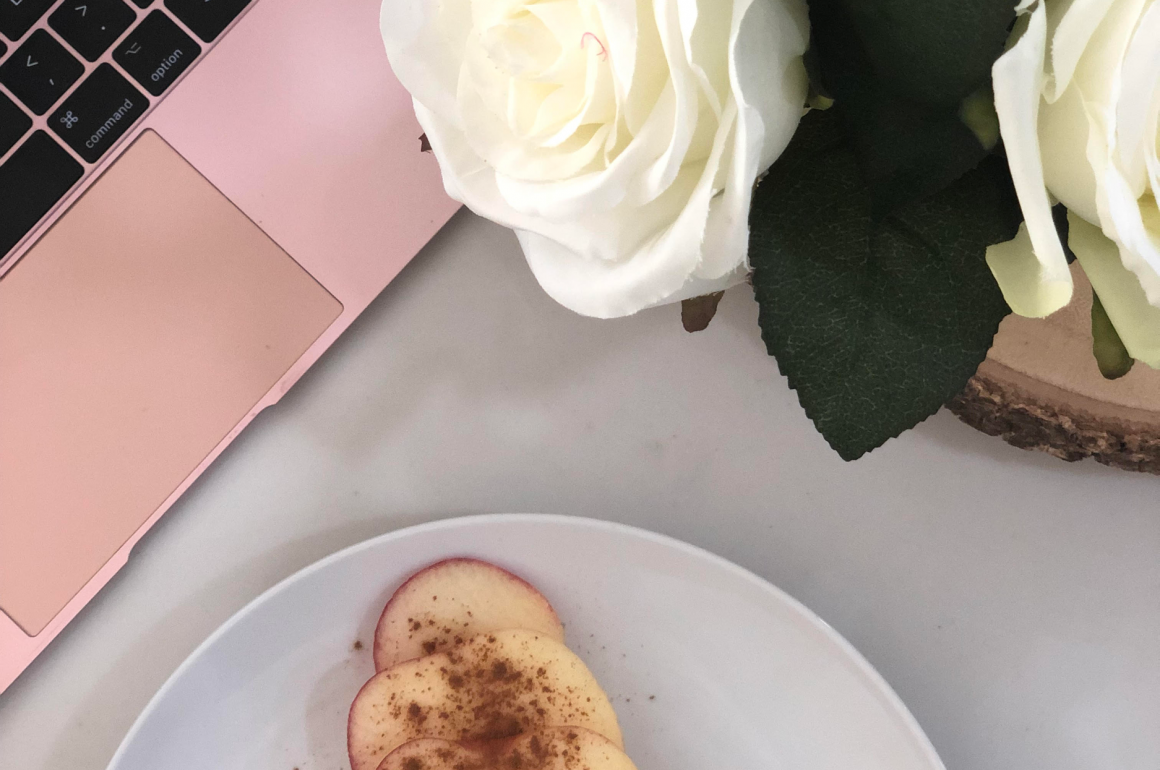 Its a common misconception that trainers spend all day at the gym. We eat three perfectly balanced, portioned meals, when we get home– we put on a face mask and hop right into our beds at 9PM to be up early the next day. Well, I can tell you one thing… for me, it looks nothing like that. So let's debunk the misconception of what its really like to be a personal trainer, build a business, balance a healthy lifestyle (for myself and others) and stay grounded in the process. Want to know what a life of a trainer is like? Keep reading cause I'm going to get real with you.
Although every day is different, I want to share parts of my day which remain constant no matter what my schedule is like. Staying consistent in a daily routine is what keeps me grounded. I typically have three alarms set that range between 6-6:30 AM. I wish I was one of those people who can just hop out of bed and jump into their day… but I love my bed and sleep too much so I'm a snoozer. I like to give myself this extra time to actually lay (even if I don't fall back to sleep) to stretch lightly, put on motivational videos like Tony Robbins or inspirational podcasts or listen to a good playlist. Once I find one, I get out of bed and move my way to the kitchen.
I start my day by filling up my 24 oz. canteen with purified water, aloe and lemon. I drink at least half of this while I make my two kitties breakfast. I fill my travel mug up with green tea and move back upstairs and check my emails for about 10 minutes while I drink my tea. Then, I wash up, get dressed, grab a change of clothes with me, some snacks to throw in my duffel and I'm out the door.
I typically instruct 1-2 group classes per day, morning and/or evenings with clients before, between and after. Depending on my class schedule for the day, I aim to workout with my group class of mine once a day to get a good sweat in. Aside from an intense spin class, one of my favorite classes to teach and participate in is my Total Tone class. No matter how tired I may be feeling, I throw on a great playlist and instantly I feed off the energy in the room.
Its a misconception that as trainers we workout with all the classes we instruct, but that's not always the case. I am scanning the room at all times to ensure form is correct, muscles are engaged, members are breathing (often times they aren't), and the energy is high. I am also checking to see the fatigue level of the class since group classes feature various fitness levels. So although I teach about 12 classes a week, I'm not actually working out 12 times a week. My goal is to get one good sweat in on my own in a quiet setting without instructing a class.
After my classes, I will meet with clients for one on one training sessions. I enjoy working with each client individually, as each one is unique in their goals, abilities, determination and effort. I train women and men of all ages and fitness levels.
In between classes and clients, you'll find me munching on organic bananas, Chomps snack sticks or sipping a decaf Americano (what I eat in a day post coming up soon). I love to run to my favorite place for a mid-day pick me up (Trader Joe's) and stock up on some goods for the week (long awaited Trader Joe's shopping haul coming soon). If any of my friends are off from work or have a flexible schedule like mine, I'll meet up with them and try and sneak in a mani pedi together or go to my mother's house and hang out with her for a lil bit.
Other days, I'm sitting in front of the computer for hours working on my health coaching programs, checking in with clients and working on my brand. I happen to find it easier to focus when I'm working with someone who shares and support my goals.
When I return home at the end of a long day, I jump in the shower, sometimes throw on a mask (FRE Skincare is a must after a sweaty spin class) and heat up some dinner which likely was prepared earlier in the week (meal prepping saves my life… look for that blog post coming soon, too!). While dinner's heating up, I'm scrolling through my feed, catching up with friends and confirming clients. I wish I was one of those people who can eat without distractions, but its hard for me to do that considering I don't get much other time to keep up with social media or friends during the day.
On nights I get home super late, I'm slathering sunflower seed butter and bananas on rice cakes and literally eating them on my way to my room. No matter what, before I call it a night, I brew a big mug of Trader Joe's Well Rested Herbal Tea (highly recommend) with ginger and some raw honey. Get into bed, sometimes put the TV on, sometimes read a book, sometimes chat with friends and call it a night.  I look at my schedule for the following day. Make sure all clients are confirmed, set my three alarms and repeat it all again the following day.
When I do get a chance to spend time alone and in quiet, especially a Saturday night, I'm one to rather spend it at a spa than a club at this point in my life. I savor the moments where I get to reconnect with myself, find my inner peace, tap into my creativity, set goals for the weeks ahead, focus on how I can improve various areas of my life and more.
I'm excited to take you all along with me and show you how I balance my MIND, BODY & SOUL.
xoxo,
Brooke